Benromach 10 – Systembolagets mest prisvärda whisky?
För några veckor sedan vann Benromach 10 den tunga utmärkelsen "Best Speyside Single Malt Whisky 12 Years and Under" vid World Whiskies Awards. I den prestigefyllda tävlingen deltar destillerier från hela världen och att vinna den största kategorin är ytterst eftertraktat. Samtidigt är det många svenska whiskyfans som gläds åt att prislappen på Systembolaget (488 kr) numera ligger under femhundringen.
Gordon & MacPhail, som äger destilleriet Benromach, har länge sett Sverige som pionjärmarknad och bundsförvant i single maltvärlden. Nu vill man tillsammans med Symposion göra Benromach prismässigt tillgänglig för ett större antal whiskyälskare i förhoppningen att tillräckligt många lockas att handla så att Benromach 10 får en fast placering på Systembolagets hyllor.
Att Benromach 10 sticker ut bland annan skotsk whisky och kammar hem guldmedaljer i de stora whiskytävlingarna beror sannolikt på den unika karaktären. Skottarna kallar den "Pre–1960". Karaktären kommer från de tillverkningsmetoder som Benromach använder sig av. Det handlar bland annat om långa jästider, jäskar i lärkträ och ovanligt små pannor som körs mycket långsamt. Högre fenolhalt i malten (som ger en bakomliggande rökighet), färska sherryfat och ett naturligt källvatten av yttersta kvalitet är också sådant som ger Benromach en egen stil i Skottland.
Senaste utmärkelserna:
• World Whiskies Awards: "Best Speyside Single Malt 12 Years and Under"
• San Francisco World Spirits Competition: "Double Gold"
• The Ultimate Spirits Challenge: "95 points. Extraordinary Ultimate recommendation"
• The Spirit Business Scotch Whisky Masters: "Gold"
Benromach 10 Years 43% 70 cl
Ytterligare produktinformation
Två ångeldade pannor. Lökformad Wash-still laddas med 7.500 liter vört som ger 2.500 liter low wine med en alkoholhalt på 20-23%. Lökformad Spirit-still (med boil ball) laddas med 5.000 liter. 20 minuter foreshots. Cutting points: 73%-60,8% ABV. Ger 900 liter new-make med alkoholhalt på 70%.
Chapelton Spring, Romach Hills
Fylls på fat vid 63,5% ABV. 80% Bourbonfat + 20% Oloroso sherry fat I 9 år. Gifts sedan ihop och lagras ytterligare 1-2 år I first fill Oloroso Sherryfat.Smaknot: Benromach 10 kännetecknas av en generös Oloroso sherryfatskaraktar och en, för Speyside, ovanligt distinkt rökighet. Därtill bjuds det på söt malt, crème brûlée, fruktiga toner av röda äpplen, engelsk apelsinmarmelad, örter, torkat gräs och kryddiga inslag av ingefära.
72-120 timmar i jäskar av europeisk lärk. Cirka 11.000 liter stora. Använder både bryggeri- och destillerijäst.
Dalmore är ett destilleri som fascinerar på många sätt. Dess historia leder
Läs mer »
Rök och sherry från Lagg Corriecravie må vara ett otympligt namn att
Läs mer »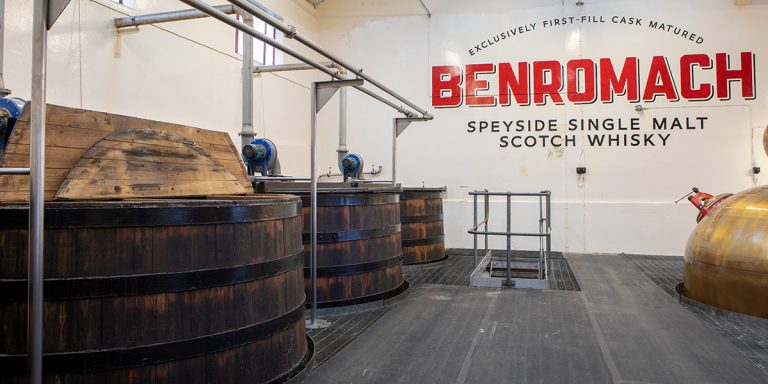 När Gordon & MacPhail väckte Benromach ur sin långa Törnrosasömn 1998 var
Läs mer »